These Are the World's 20 Most Impressive Ways to Travel
From hovercrafts to 270+ MPH supercars, these are the coolest ways to get from A to B.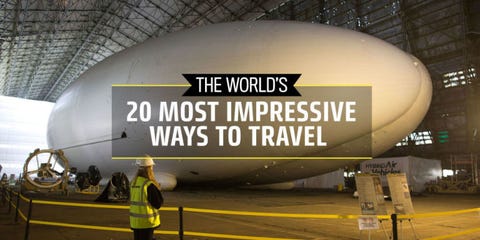 From hovercrafts to 270+ MPH supercars, these are the coolest ways to get from A to B.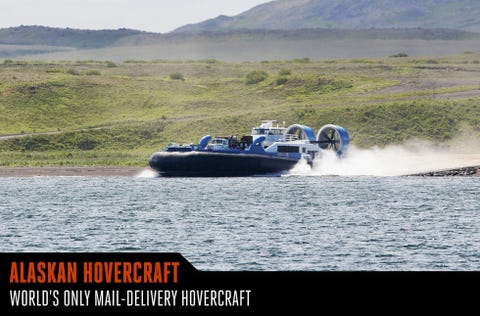 Alaskan Hovercraft
We can't pick out just one hovercraft, but we can pick our favorite state where civilians use them: Alaska. In 1998 the United States Postal Services brought in hovercraft to start handling mail. But mail isn't the only thing getting hauled around by hovercraft in Alaska, where multiple hovercrafts—from the British built Hoverwork AP1-88 from the USPS to the Hoverwork BHT130—also work as a ferry service for freight and passengers, although the high cost to operate the machines have led to their demise in some places (i.e. King Cove, Alaska). Either way, the unique way of handling transportation offers up a variety of impressive hovering.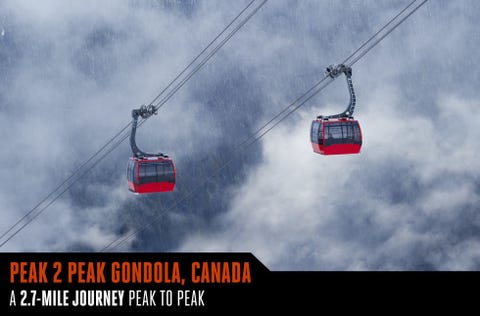 Peak 2 Peak Gondola, Canada
With the longest free span between ropeway towers in the world, and the highest point above ground of any cable car in the world, this British Columbia cable car takes visitors across a 2.7-mile journey from the peak of Whistler to the peak of Blackcomb. Dubbed B.C.'s "rooftop," the Peak 2 Peak Gondola on Whistler Blackcomb Mountain includes 360-degree views of the mountain terrain below, used for snow sports in the winter and hiking and biking in the summer.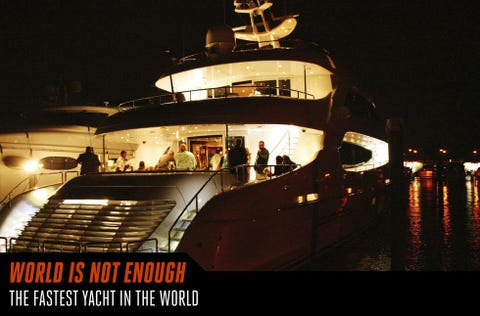 World is Not Enough
This Millennium 140 luxury superyacht, created for John Staluppi, represents the fastest yacht in the world, able to reach top speeds of 70 knots. It's powered by two Paxman 18-cylinder main diesel engines offering a combined 10,870 horsepower with an extra 9,200 horsepower from two TF80 Lycombing turbines. The lightweight aluminum alloy superstructure with a dead-rise V-hull design allows the 140-foot yacht to cut through the water despite its 165-ton size. Of course, this boat was built for luxury, not just speed, so the Millennium 140 includes creature comforts such as a marbel foyer, carbon fiber stairway steps, and full-service bar with backlit glass, to name just a few.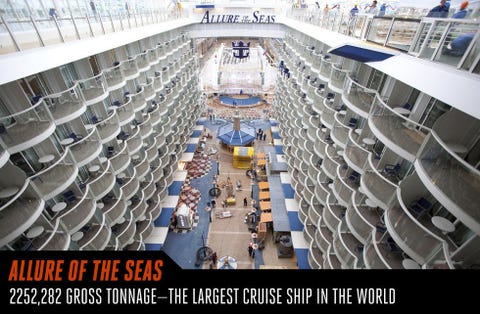 Allure of the Seas
At 1,181 feet in length and a gross tonnage of 225,282, the Royal Caribbean Allure of the Seas is the largest cruise ship in the world. The steel ship features seven distinct on-board neighborhoods, surfing, ziplining, ice-skating, 3D movies and pools. Allure also has a 21,500-square-foot solar array to power all these amenities while cruising throughout the Caribbean.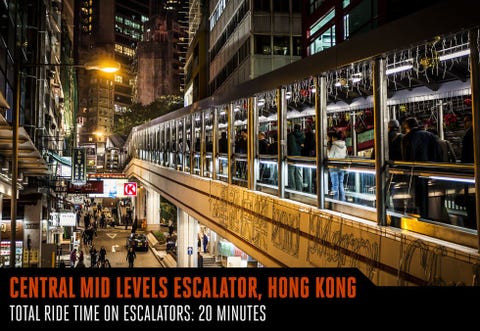 The Central-Mid-Levels Escalator, Hong Kong
If this Colossal Hong Kong escalator system didn't exist, you'd have all sorts of stairs to deal with to climb between the western and central Hong Kong districts. This system of 20 escalators, built in 1993, combines to become the longest outdoor covered escalator in the world, running a total length of 2,624 feet and rising 442 feet in the process. From end to end it's a ride lasting 20 minutes. That's a hearty "no thank you" on the stair option.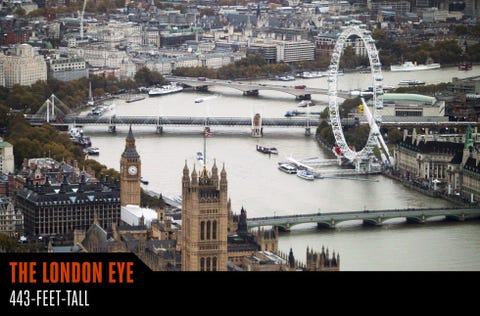 The London Eye, London
The world's largest cantilevered observation wheel won't take you to a new city, but it will offer you a new perspective. The 443-foot-tall London Eye, designed by Marks Barfield Architects, opened in 2000 as a temporary structure meant for a five-year run on the River Thames. The wheel's popularity skyrocketed, though, and it became a permanent, unique icon and an unmistakable piece of the London skyline.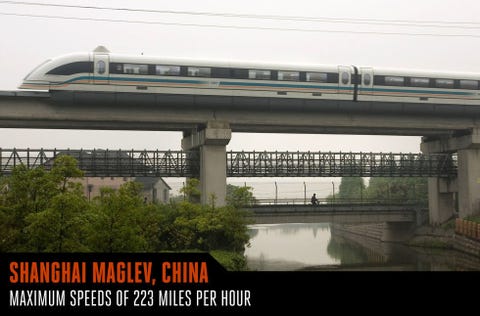 Shanghai Maglev, China
The fastest train in the world travels whisks travelers between Beijing and Shanghai in a four hours and forty eight minutes. The magnetic levitation (Maglev) train, also know as the Shanghai Transrapid, has a maximum operational speed of 223 miles per hour. Manufactured by CSR Qingdao Sifang Locomotive & Rolling Stock in 2004, the rapid train system has taken modern train travel to new speeds.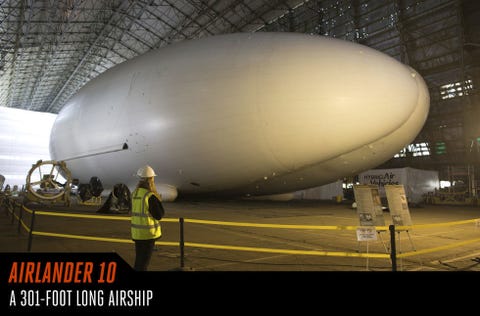 Airlander 10
The world's largest aircraft prepares for a return to flight in 2016. It first flew in 2012 as part of a U.S. Army contract, but was returned to Britain in 2013. The Hybrid Air Vehicles Airlander 10, a helium-filled craft powered by turbocharged diesel engines, is undergoing preparations now for takeoff. Once airbone, it can fly for five days non-stop. The four engines include vectored thrusts for takeoff and landing, and the makeup of the 301-foot airship allows it to land in a variety of locations, such as the tops of buildings.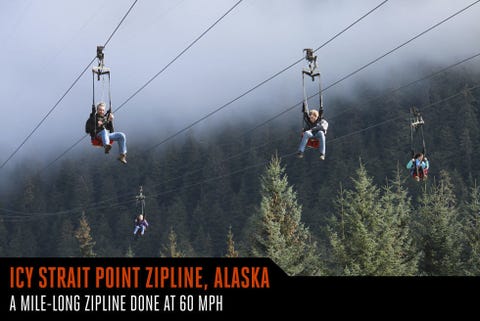 Icy Strait Point Zipline, Alaska
Traveling at an average speed of 60 miles per hour, people flying down the mile-long Icy Strait Point Zipline in Alaska finish the course in just 90 seconds. This isn't the longest zipline in the world, but if you find yourself zooming down its 1,300-foot, 24-degree vertical drop, you'll have a hard time saying it's not impressive. One fun thing to do while you're here: Six riders can strap in and take off simultaneously on parallel lines, allowing for a race to the bottom against five of your friends. The longest ride in North America offers views of the mountains, trees, and ocean—if you can see all that scenery while you're moving so fast, that is.
Stanserhorn Cabrio, Switzerland
Stanserhorn Cabrio can carry 60 people at a time near the top of Switzerland's 6,233-foot-tall Mount Stanserhorn. But what really gives visitors the "wow" factor is that this is world's first cable car with a roofless upper deck (it moves on side-mounted support cables), letting people on the top of the double-decker cable car bask in 360-degree panorama views. The lower level has wall-to-wall windows, but a staircase leads to the sun deck, with room for an additional 30 visitors.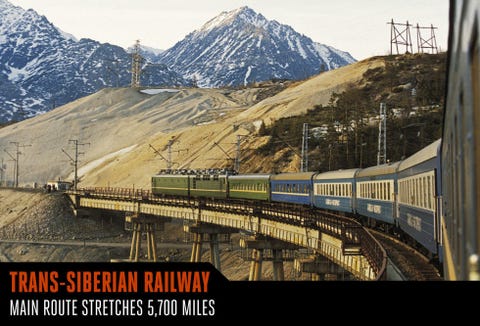 Trans-Siberian Railway
It takes more than six days to travel the entirety of the Trans-Siberian Railway, so it isn't so much speed that you're after here, but endurance. The only overland route crossing the entire country, the main route stretches more than 5,700 miles, crosses eight time zones, covers two continents and hits 87 cities. The broad-gauge trains used on the multiple routes offer three classes of tickets and come equipped with dining and—mostly—full showers.
Burj Dubai Elevator, Dubai
It's no short trip to the top of the Burj Dubai in the United Arab Emirates, so the world's tallest building has Otis-made double-deck cars that travel the magnificent 1,654 feet—that's just elevator distance, mind you—that made it the longest travel distance for an elevator in the world. With the world's highest elevator landing, at 2,093 feet up, and the fastest double-deck elevator when it opened at 1,969 feet per minute, the Burj Dubai system will remain grand for years to come, even when the planned Kingdom Tower in Suadi Arabia takes the title of world's tallest building, and perhaps world's tallest elevator.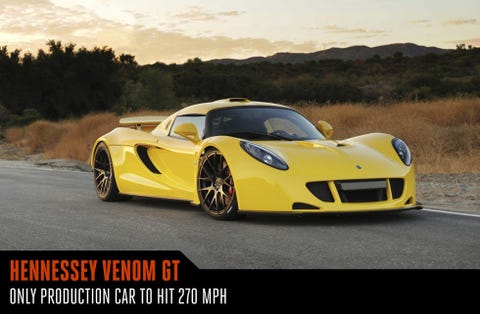 Hennessey Venom GT
You may never need to travel more than 270 miles per hour in a car, but it's good to know you could. The Hennessey Venom GT was clocked going that fast in 2014 on the 3.2-mile space shuttle runway at Cape Canaveral, Florida, making it the fastest production car around. The owners of the Venom GT have experienced that raw power firsthand, but it's a small group (i.e. Steven Tyler), as it takes six months to build one and only 11 have ever been built. With horsepower at 1,244 bhp and torque at 1,155 pounds per foot, the Hennessey Venom GT can go from 0 to 60 mph in 2.7 seconds and 0-100 in 5.6 seconds with a standing mile speed of 253 mph.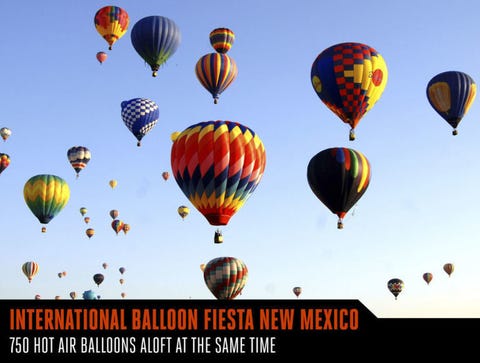 International Balloon Fiesta, New Mexico
We didn't select a single hot air balloon because, frankly, the most impressive way to travel by hot air is in concert with other balloons. That's something that can be done with ease at the International Balloon Fiesta, held every October in Albuquerque. There, roughly 750 hot air balloons lift off together and fill the New Mexico sky.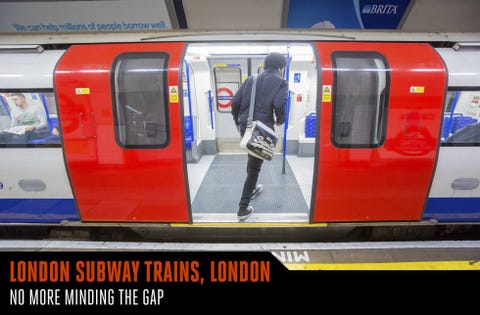 London Subway Trains, London
With apologies to Beijing's subway system, the new cars for the London Tube should become the world's most impressive when they debut sometime in the 2020s. The next-generation trains designed by Paul Priestman will fill the Piccadilly, Bakerloo, Central and Waterloo & City lines with built-in Wi-Fi, evenly spaced double doors, air-cooling, LED lights that alert riders, and a style that eliminates the infamous gap everybody's been minding. Also, the new system will one day go driverless, and act as a contiguous tube rather than a series of cars, saving energy and promoting flexibility to meet route demands.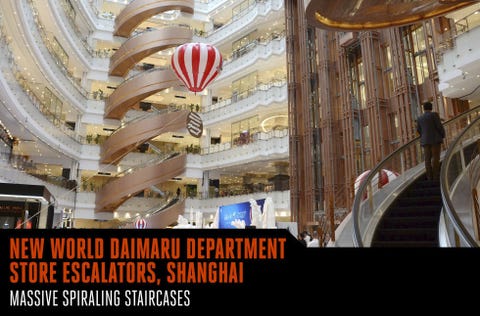 New World Daimaru Department Store Escalators, Shanghai
The shape gets you on this one. Inside the New World Daimaru Department Store, a Shanghai shopping mall, 12 curved escalators fill the central atrium in the form of massive spiraling staircases. Mitsubishi built the project and raised the standard for out-there escalators.
Sailing Yacht A
Mega-wealthy Russian Andrey Igorevich Melnichenko must like sailing, and going big. His Sailing Yacht A represents the world's largest sailing superyacht, with a 468-foot-long steel hull, a 300-foot-tall main mast, and even a helipad. At a cost of £260,000,000 (about $375,000,000), the sailing yacht, which is also equipped with a motorized system, can cruise at 18 miles per hour with a top speed of 24 mph.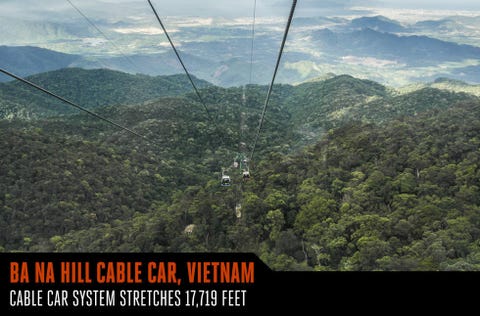 Mr & Mrs Backpacker
Flickr
Ba Na Hill Cable Car, Vietnam
When the folks at Guinness World Records know you by name, you've probably created something special. The Ba Na Hill Cable Car, opened in 2009, has held four records from the Guinness folks, including being the longest single-wire cable car system in the world. The system stretches 17,719 feet, and visitors can choose between 86 cabins that are open air, enclosed, or glass encased, each holding 10 visitors and traveling at faster than 19 feet per second when connecting in the resort hills of Vietnam.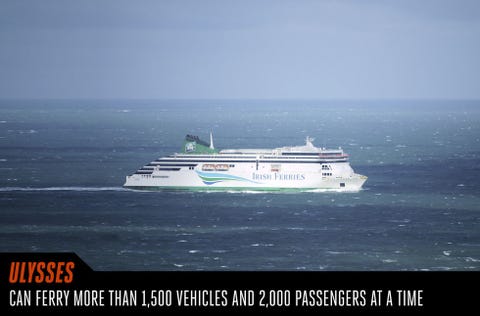 Ulysses
At 12 decks high, including six vehicle decks, and reaching heights of 167 feet from keel to mast, the Irish ferry passenger ship Ulysses is one of the largest passenger ferries in the world. The vessel can handle more than 2,000 passengers and crews, 1,342 cars, and 240 articulated trucks between Dublin and Holyhead. Of course, if you want to pretend you're on a cruise ship and not a ferry, enjoy the two-screen cinema, bars, shops, and dining on board.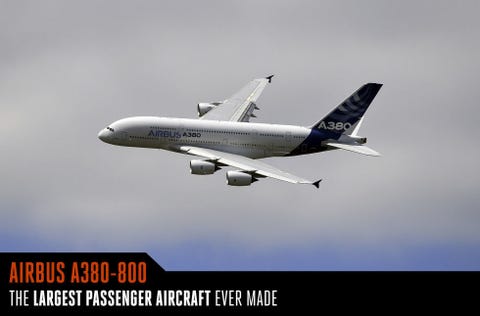 Airbus A380-800
The Airbus 380-800 can put up all kinds of statistics to blow you away. Typically holding 544 passengers, the super jet can go up to a maximum of 853 (that's a tight seating configuration, mind you. The largest passenger aircraft ever made, the 236-foot-long 380-800 can travel 9,440 miles in one flight. This Airbus employs plenty of advanced aluminum alloys in the wing and fuselage and composite materials throughout the plane to bolster the strength-to-weight ratio, which enables the Airbus to be so proficient at moving large numbers of people or cargo around the world.
Follow Tim Newcomb on Twitter at @tdnewcomb.
This article originally appeared on Popular Mechanics.
This content is created and maintained by a third party, and imported onto this page to help users provide their email addresses. You may be able to find more information about this and similar content at piano.io