How It's Made: Steel Cars
While the steel has gotten stronger and lighter, the process of turning it into a car has been pretty much the same way since the days of the Ford Model T, aside from a few high-tech additions. Here's how it's unfurled from 18-ton rolls into a nice, shiny new car.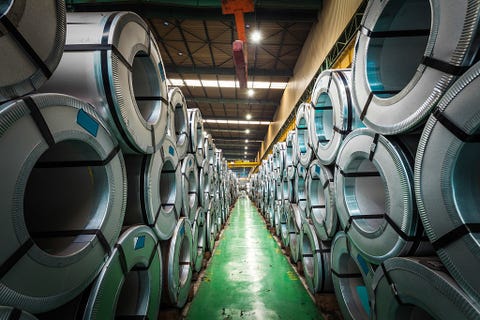 Start with Strong Steel
Steel strength is measured in megapascals, the SI unit for pressure and tensile strength—but in millions of pascals. With advances in metallurgy in the past decades, it's good to know that our steels are getting stronger. In fact, 1,500 megapascals is not unusual in today's cars (that's three times higher than it was in the early 2000's). To give you a visual of just how strong that is, picture hanging 200,000 pounds of weight on a strip of steel an inch wide without bending it.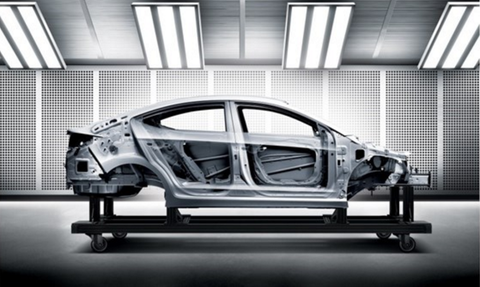 Model it Out
Computer models determine what areas of the car's frame need to be strong, what is subjected to the daily strain of driving, and what will need to hold up in an accident. The different steels have different applications: high tensile strength for door and roof pillars, for instance. Millions of hours of computer simulations make things simple, but there's still no substitute for the good ol' fashioned crash test.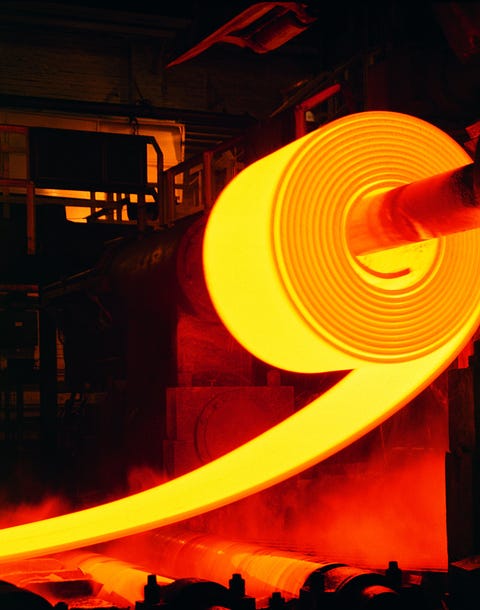 Roll Out the Silver Carpet
Steel comes from the mills the same way it has for centuries: molten iron, melted down in a furnace. Alloying elements are added, the result is pressed through rollers, and then it's ready to send to car factories—in the form of giant rolls weighing up to 18 tons each.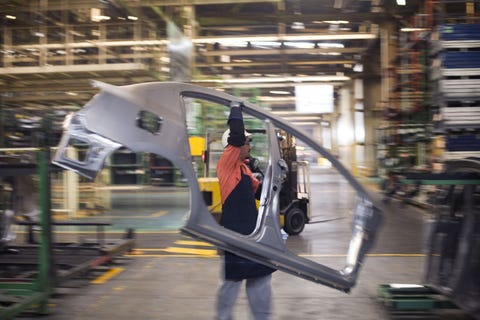 Put a Stamp On It
Once at the factory, the rolls are unloaded (carefully), cut into sheets, and then fed into colossal presses that transform them into complex shapes. The stamping process is straightforward: a flat piece goes in, it is cut and pressed into shape, and then assembled for welding. Heating up the steel before it is formed makes it stronger as it comes out the other end, allowing for lighter pieces to be used.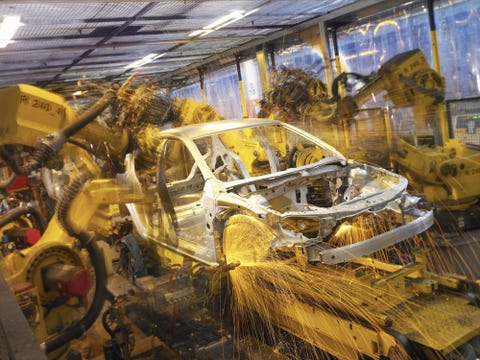 Bring in the Robotos
All the steel pieces come together, like a three-dimensional jigsaw puzzle, at the hands of a troupe of robots. They pick up these heavy components, spin them into place, and weld them together: pillars to chassis, roof to body. These robots are able to weld with the utmost precision: tolerances are down to half a millimeter, as determined by any combination of camera, ultrasonic, and laser measurements.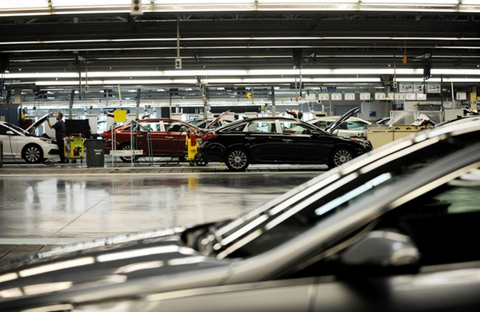 Add the Finish
From here, all the stuff that makes a car a car is added on: the body-in-white gets a shiny coat of paint, the electrics are added, drivetrain components are put in place, and the interior comes together. Quality checks, a final once-over, and then it's onto the truck to your friendly neighborhood dealer. These days, your average car factory can spit out a brand new car in a minute. And you can have it in any color, even if it's black.
This content is created and maintained by a third party, and imported onto this page to help users provide their email addresses. You may be able to find more information about this and similar content at piano.io