What Will Our Roads Look Like in 50 Years?
The biggest changes you'll see in the not-so-distant future.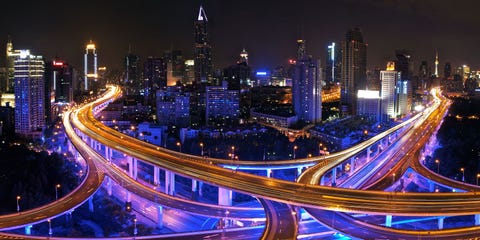 Julien Ballet-Baz/Getty Images
Getty Images
Road work ahead! With all the talk of advances in automobiles, we've almost forgotten that the roads we get around on will have to keep up. So what will our roads look like in 50 years? For starters they'll be able to tell you the weather, divert you from traffic, charge your car with the power of the sun, and maybe even sing a song.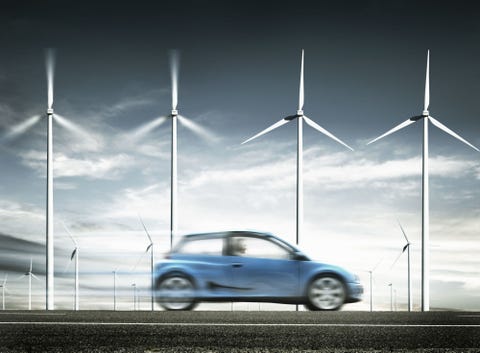 It Will Charge Your Car
Long a staple of smartphones, magnetic inductive charging can charge a battery without wires. Imagine if an electric car can be charged simply while driving. It'd work like this: magnetic plates underneath the road's surface would interact with the same plates on the bottom of an electric vehicle, and when the car passes over it, the battery gets current to fill it up. Electric buses have been picking up juice in South Korea, Germany, The Netherlands, and even Utah, in a pilot program with Utah State University. And last year, researchers in England began an 18-month trial of a stretch of road that could charge smaller electric vehicles, as well as plug-in hybrids. Add solar panels as a potential power source, and you may just have the most eco-friendly way to get around.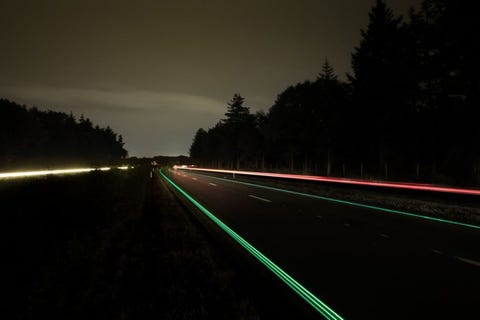 It Will Glow In The Dark
Glowing lines may supplant our ubiquitous overhead lighting, according to designer Daan Roosegaarde who's experimenting on a stretch of Dutch highway. He believes painting a rural road in glow-in-the-dark paint (which recharges in daytime and glows for eight hours) would be easier to install than a system of light poles, more environmentally friendly, and far safer, allowing drivers to easily see the edges of the road and the pavement markings. And on the N329 highway, some 60 miles south of Amsterdam, the glowing road lights up in long, green streaks. Though not without its initial teething problems, it did look pretty great: "sometimes it's about just making really cool, poetic, Matrix-like landscapes," says Roosegaarde.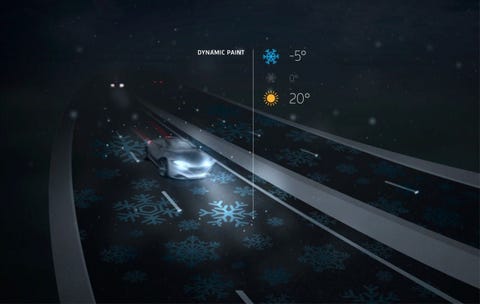 It Will Tell You If It's Slippery
Here's another concept by Studio Roosegaarde: road markings with temperature-sensitive paint that could alert you to bad weather, something you might not notice from the coddled, dual-zone climate control of your car. While glowing lines has been implemented, dynamic paint has yet to be installed in The Netherlands or anywhere else. Since the project's introduction in 2012, smartphones have been a better bet for predicting the weather. But imagine if the road you're on could warn you that it's covered in black ice—something your iPhone can't do.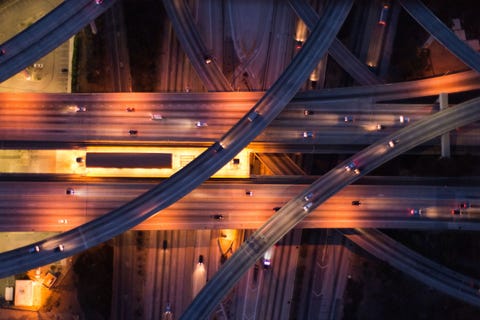 It Will Have Changing Speed Limits
The Internet of Things has put our refrigerators, toothbrushes, and traffic lights online. Why not roads? England already has a "smart road." It's a 50-mile stretch of the A14 highway covered in sensors that will monitor traffic levels. These sensors send signals to and from mobile phones inside the cars to pick up on traffic patterns. The idea is that variable speed limits will monitor the flow of traffic, and someday be used to communicate with autonomous vehicles and manage their speeds.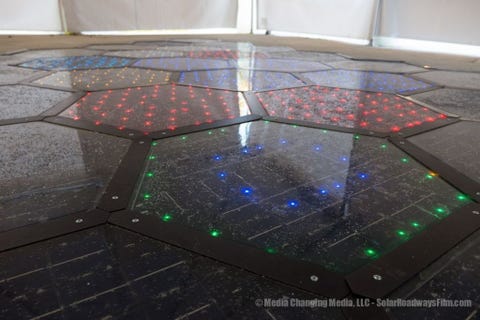 It Will Generate Power
A company in Idaho called Solar Roadways has an idea to turn our roads into giant solar panels. And in Missouri, by iconic Route 66, the company partnered with the state government to install solar panels at a rest stop. Solar Roadway's hexagonal panels are fitted with tempered glass, weigh 70 pounds each, and are outfitted with over 300 LEDs, which could make for fun light shows. Meanwhile, in The Netherlands (again with the Dutch!) a solar cycle path generated enough power to power a household for a year, far blowing researchers' expectations. The company hopes to offset the high initial cost of installation with the sale of all the energy a solar road could generate.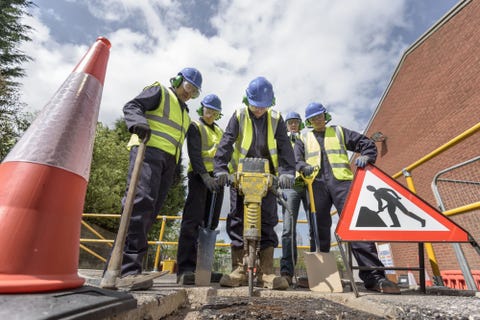 It Will Be Eco-Friendly
How appropriate that asphalt is a by-product of petroleum. Slathering God's green earth in black tar doesn't exactly help it out—so in recent years, there's been an effort to build roads from recycled materials: everything from cooking oil, algae, plant parts, plastic bottles, or even printer toner has made its way into a suitable road material. Advances in bioasphalt could prove to be more durable, resisting the need to resurface and fill in potholes. Even if you don't care about the staggering carbon dioxide emissions from asphalt manufacture, you'd undoubtedly favor fewer construction snarls.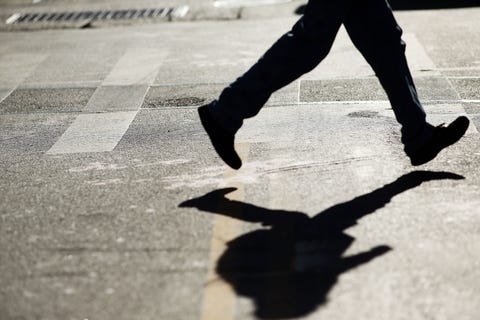 It Will Be Narrower
A major road lane through a city is 12 feet wide. That's a lot. People believe that wider streets are safer—more room for cars, after all!—but it engineers a sense of complacency, giving drivers free reign to drive faster, which in turn could be deadly to pedestrians, cyclists, and other traffic. One study by Rutgers University found that "increased lane widths could be blamed for approximately 900 additional traffic fatalities per year." It suggested reducing lane widths to 10 feet. This would reduce the amount of asphalt required, minimizing environmental impact (our city cores are warmer because of all that tarmac, after all). It gives pedestrians less distance to cross a street, rendering them less vulnerable to traffic. And it guides motorists to drive slower through crowded areas, which allows for a city that's friendly to all forms of transit. Which, in turn, makes for a happier city.
This content is created and maintained by a third party, and imported onto this page to help users provide their email addresses. You may be able to find more information about this and similar content at piano.io